Step 6: Screen printing your first custom t-shirt
Before you start printing, get your work area ready and have ample room. It's also a good idea to keep rags around and cover up the floor. I don't know how, but paint always manages to get into places you don't want dirty.
–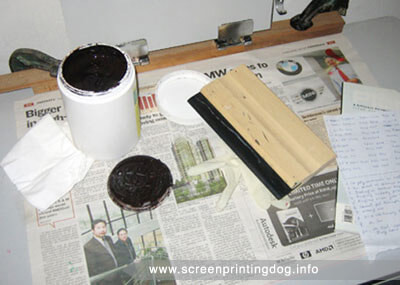 What you need:
Screen
Squeegee
2 Blank CDs or some coins
Paint (water-based or plastisol)
Blank T-shirt
Great, now place your T-shirt on a flat surface (I'm using a home-made 1-color printing press, for the building plans, check it out here) and place your screen directly on your t-shirt wherever you might want the image to be. Simple enough?

place t-shirt on printing press platen
–

1 color screen printing press setup
–
Before you start pouring paint, place an object in between your tee and the screen. Create some space. I use coins. My friend Dan stacks two CDs together for such elevation. We call this the "off-contact".
–

off contact screen printing press
–
The goal here is to make sure the screen 'pops' back up as you push paint through. If there is no off-contact you'll get a blotchy image as a result of the mesh sticking to the tee. Note: You don't want an off contact that is too high, so I suggest a space of NO MORE than 1/8th of an inch.
Okay now, bring out the paint and squeegee.
–

paint on screen
–
Technique:
It's always good practice to flood your image once before the actual printing. Flooding is when you lightly pull paint over your image while the screen is lifted. You need to do this during printing to avoid the paint from drying up inside the mesh.
–

flooding image
–
I usually flood, print, print, flood, flood, print, print, flood, flood, print, print, flood, flood, print, print, flood, flood, etc…and there you go! Your first custom screen printed t-shirt!
–

your first custom t-shirt!
–
Take note that most printers I've seen and met would recommend pulling the paint from top to bottom – I say do what works for you. Just make sure you firmly hold your squeegee and pull/push at a 45degree angle – I won't get into squeegee type, but for standard screen-printing I use both a single bevel and square edged rubber squeegee at 60 durometers. Read up on squeegee types, here.
–
Step 7. Curing the ink