Step 8: Reclaiming your screen and maintenance
Once your done with printing, take your screen to water. For water- based ink, it's a good idea to wash them off so the paint doesn't dry up in between the mesh.
What you need:
Shower head
Emulsion remover
Dish Scrubber
Haze remover
Earplugs
–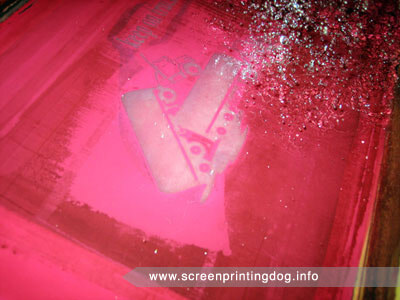 –
If you're completely done with the stencil, it's a good idea to reclaim the screen. This means restoring your screen to its original condition as when you first got it from the store. I suggest putting some remover into a spray bottle as opposed to dabbing onto the screen. With the spray, you are able to disperse an even coat to the screen rather than in patches. Allow the remover to sit for 10-20 seconds.


–

spray some reclaimer
–
Use running water while rubbing/scrubbing away at the stencil.
–

removing the stencil
–
Once the emulsion is completely removed, hold it to the light to check. If you still see a 'ghost' or the outline of the image, don't worry, it's just "haze" or paint residue sitting on the threads of the mesh. As long as this doesn't block off the screen, you're fine. But if you're feeling anal about it, apply some haze remover to completely clear it off.
–
Congratulations!!
–
And just like that, you've made it to the end of the process! I hope this overview gives you a more detailed understanding of how screen printing works. If you want to get the whole tutorial in a pdf format minus the annoying ads, visit my Free Downloads section. Thanks for reading.