5 Reasons Why You Should Start Screen Printing T-shirts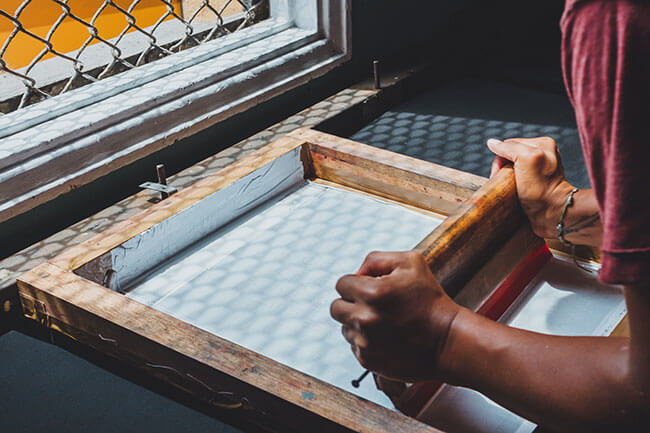 Screen printing t-shirts is probably one the most fulfilling projects you can start doing at home by yourself.
It is not only great as a hobby project, but if you do get good at it, you can actually turn it into a business, and that's when the possibilities are endless.
Plus, the learning curve is relatively low. With some patience and reading this blog, you'll be more than ready to start your adventure.
T-shirts in my opinion offer the best learning platform.
Here are some other reasons why you should start thinking about screen printing at home.
1. Small investment to start
Home projects are fun, but can cost quite a bit in the long run. Specialty equipment can be pricey and can sometimes be a waste of money if you suddenly decide it isn't for you.
Screen printing however is fairly cheap in supplies and most equipment are low budget and can sometimes be home- made as well.
2. Easy to Learn
Any project you undertake will be a rewarding venture when you've reached your goals. However, most projects take time and have a steep learning curve compared to screen printing, which often times is comprehensible after a few tries. The Internet is a great resource for learning the screen printing process. Make use of these resources and you'll be a professional screen printer in no time.
3. The sky's the limit on things to print on
You can start screen printing with just about anything you find lying around the house. Most start off with screen printing on t-shirts before venturing into other mediums such as bags, wallets, posters, curtain, jerseys, and even cups. I'm sure you can find an old piece of t-shirt to sacrifice?
4. Multiple markets
Look around the marketplace or think of a topic and I'm sure you'll see what an impact screen printing has. There are literally a million subject matters to pick from such as sports, automotive, music, and even fashion. The quickest way to start is by choosing your own passions or interest – you'll soon find that this is also the most fun. Fact of the matter is, the trade of screen printing will never die off.
5. Endless marketing opportunities
This can be a lucrative business and opening a store to start selling your stuff online easiest today than it ever was. The web offers an array of support from design platforms, marketing tools and even distribution options to help you setup your business fast and affordable.
From here, you can already gauge why this is such a valuable endeavor. If you need a place to start, check out my complete screen printing tutorial.
Do it as a fun project or business venture, you'll quickly realize that the market is huge and a piece of the pie is ready for you!